What is 3CX Phone System
3CX Phone System is a software-based PBX for Windows, based on the open SIP protocol. Because 3CX works with SIP it supports popular SIP phones, VoIP providers and Gateways, ensuring you'll never get locked in with one particular vendor.
3CX Phone System is a mature product and installed at more than 20,000 companies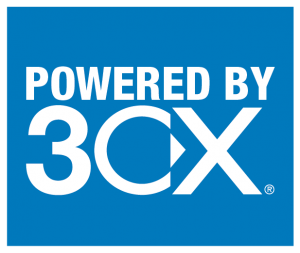 worldwide with a combined total of more than 1,000,000 extensions.
Our commitment to deliver a quality, innovative and and open IP PBX has been recognized many times over as it has been the recipient of numerous industry awards.
Runs on Microsoft Windows
One of the unique things about 3CX Phone System is that it does not require a proprietary hardware box. Instead it runs on Windows Server and on standard server hardware.
This in contrast to many other IP PBXs today that run on Linux. Businesses run their data networks on Windows not Linux and they should be able to run their phone systems on Windows, too. What's more, it makes integration with popular Windows applications far easier.
3CX Phone System is the only IP PBX to have passed Microsoft's Quality testing for Window Server 2008 and 2012.
Completely Software Based
The fact that 3CX Phone System is a pure software PBX gives it many advantages over a hardware based appliance.
It is easier to manage and control since it's just another Windows server application. You can forget about having to learn Linux as well as going through painful Linux updates.
It also scales a lot better as you can add more phones and lines as you go along, without being limited by the ports or processor of an appliance.
You can install it on an existing server or virtualize it on Hyper-V or VMware and eliminate extra hardware, energy and management costs.
You can easily backup your PBX to a disk and restore on another machine in case of hardware failure! Try doing that when your appliance breaks down.
Being Windows based means we can leverage Windows features and its modern development technologies and therefore we can innovate faster than on a custom built OS. It also makes it easier to integrate with existing Windows server applications such as Exchange.
Save Costs
You'll save a lot on telephony costs with 3CX Phone System too. First of all, the 3CX purchase cost is much lower than a traditional PBX. It's also much cheaper to expand, you won't need expensive expansion ports to add additional lines. To add extensions, just add IP phones or smartphones.
Since the interface is straightforward, you can easily administer extension and line settings yourself and save big on consulting and administration fees of your telco reseller.
You will save on your monthly phone bill too. Leverage local VoIP Providers or Skype Connect  to make low cost international calls. And if you have branch offices, all inter-office calls can be made free of charge. Same goes for calls to and from Remote Extensions. You will see significant savings on your monthly phone bill.
Easy IP Phone Management
3CX Phone System takes the headache out of managing IP Phones. First of all, it can automatically provision all your IP Phones and apply changes to their configuration automatically. If you change a configuration option or a password, 3CX will take care of pushing out this change to the IP Phones and smartphones.
3CX can automatically configure IP Phones with all extensions settings such as the corporate phonebook, the Message Waiting Indicator and the phones BLF fields.
New firmwares for phones are pre-tested by 3CX, ensuring that the firmware is fully compatible with 3CX. Then network administrators can download and apply the firmware to ALL phones in the network with a few mouse clicks. In addition, the interface allows the administrator to easily reboot or re-provision a phone remotely.
3CX can also configure a phone as a remote extension, so that an employee can take the phone home and be able to easily work from home.
3CX reduces phone administration to next to nothing!
Quick to Install
3CX Phone System is quick to install too. Setup will automatically install all components for you. Furthermore 3CX will support popular phones out of the box.  Automatically configure Yealink, Snom or Grandstream IP Phones with a few mouse clicks. Provision Android and iPhones as extensions via an email attachment.
Keep your existing phone lines but using VoIP Gateways – again these are auto configured by 3CX and will save you hours of deploy time. Add SIP trunks or Skype connect via preconfigured templates.
3CX works to automatically configure hardware for you, saving you countless hours during installation. 3CX will also support you in configuring supported hardware.
Easy Management
Traditionally PBXs are difficult to manage – adding extensions is cumbersome. Not so with 3CX. The web based Management console makes it possible for administrative staff to manage the phone system – without requiring extensive training. Adding extensions, creating rules to forward calls and so on are done in just a few mouse clicks.
Superior Mobility with Smartphone Clients
Employees demand being able to work from anywhere. 3CX Phone System delivers unparalleled mobility by allowing users to make and receive office calls from their iPhone or Android device, wherever they are.
When a call comes in, both your mobile and office IP Phone can ring. Alternatively you can automatically forward all calls to your mobile phone when you're out of the office.
Slash mobile phone bills by leveraging Wi-Fi or 3G to make or answer office calls when you're not in the office.
3CX is also the first PBX to use PUSH Technology, which means that 3CX can 'wake up' the phone when a new VoIP call or instant message comes in! PUSH Technology saves valuable battery life whilst still allowing you to be reachable on your extension anywhere. As the calls are being sent via 3CX Phone System, users do not need to give out their mobile number either.
3CX's Smartphone clients even allow users to easily setup conference calls from their smartphone. You can elevate a call to a conference and add one of your colleagues, or an external number and be up and running with a conference call in literally seconds!
Increase Productivity with Unified Communications
3CX significantly increases productivity with its unified communications features. Employees can see the presence of other users in the office, and avoid unnecessary phone calls or transfers, eliminating the dreaded voice mail tag.
Receive voice mail and faxes via email, wherever you are and send quick text messages with the corporate IM feature. Users can also setup a conference call with just one click.
Desktop Call Control with CTI
When in the office, users can increase their productivity by using the 3CXPhone CTI mode to control their IP phones from their desktop and initiate calls with a mouse click rather than manually typing in the phone number.
Transfer calls with a mouse click rather than via cryptic phone interface which differs for each phone. The same goes for conference calls. Users can also view their call history and set their status, letting their colleagues know if they're in or out of the office.
CRM Integration
With CRM integration you can automatically launch calls from your CRM package without having to redial the number on the phone. Call journaling tracks all the calls made to a specific contact.
Also, when a customer is calling in, an automatic popup of the callers name with their contact record is shown.
Integration with Microsoft Outlook comes as standard with 3CX, other CRM packages are supported via additional modules. Currently available are:
Salesforce
Microsoft Dynamics
SugarCRM
And Sage Act
Other CRMs can easily be supported with the use of the CRM API.
Call Center Features with 3CX Phone System Pro
3CX Phone System Pro adds numerous features to the standard edition of 3CX Phone System. It features advanced call center features such as advanced queue strategies and monitoring, Service Level Agreement alerts, Listen in, barge in, whisper features as well as queue and agent reporting.